Virogreen, the natural extract, reduces cytokines that cause inflammation, pain, fever, the destruction of specific immune systems, and reducing free radicals.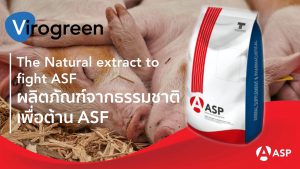 When an animal is infected with a virus that causes severe inflammation, which includes African Swine Fever (ASF), Porcine Reproductive and Respiratory Syndrome (PRRS) virus, and Foot and Mouth Disease (FMD), the mechanisms causing inflammation are relatively similar.
Stimulating the body to make NFkB abnormally high, causing various inflammatory cytokines to release. This mechanism creates a condition known as Cytokine storm or a condition in which the immune system is more responsive than usual. For example, this group of cytokines, such as TNF-a, IL6, IL1, etc., are the leading causes of severe inflammation in the body.
Stimulate secretion of COX-2 after severe inflammation. This cytokine has the effect of causing pain and fever, which is another cause of animal death.
When animal cells are destroyed by inflammation. The death cell will release free radicals to destroy nearby cells. Therefore, we can see that the surrounding tissues will have a wide range of inflammation.
Some inflammatory media such as TNF-a, IL1 effect inducing immune cells to be destroyed, including T-Cell and B-Cell. Eventually, animals die because they cannot develop immune cells that are specific to the disease to resist on their own.
Virogreen, a product of Animal Supplement and Pharmaceutical Co., Ltd., The main component is high purity polyphenols. Which can be absorbed in the digestive tract, and the effect covers all three forms.
Reduction of NFkB, TNF-a, IL-1, IL-6 cytokines in the inflammation stage. Therefore, the body's inflammatory mechanism occurs at the appropriate level to resist infection in the body and inhibits the destruction of immune cells specific to those viruses.
Reduce COX-2 specifically, thus having a significant effect on reducing fever and the pain from infection
Has antioxidant activities that reduce the severity of the inflammation not to spread a wide area.
Virogreen products are suitable for protecting and reducing inflammation, fever, pain reduction, and inhibition of specific immune cell destruction in pigs and cattle with PRRS, Foot and mouth disease (FMD), and African Swine Fever (ASF). All properties enhance disease resistance and effectively reduce the loss on the farm.
#ไวโรกรีน #ASF #Africanswinefever #PRRS #FMD #Virogreen #ASP #Animalsupplementandpharmaceutical #ลดอักเสบ #ลดปวด #ลดไข้ #เอเอสเอฟ #ปากและเท้าเปื่อย #พีอาร์อาร์เอส #อหิวาห์แอฟริกัน #อหิวาต์แอฟริกันในสุกร