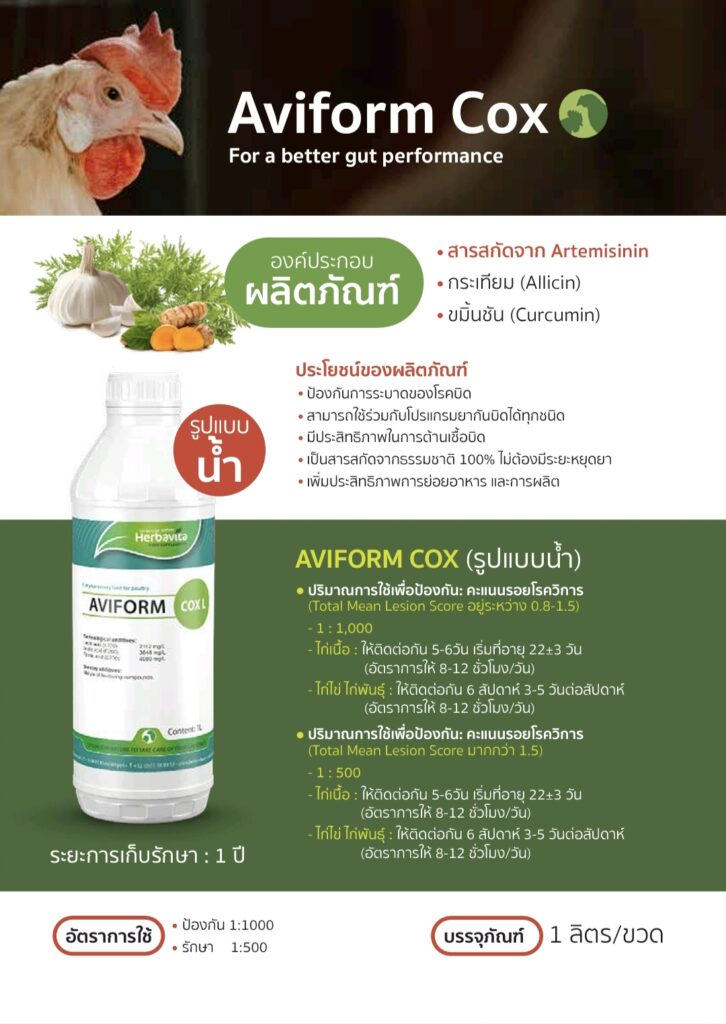 Rainy season has arrived, causing Coccidiosis to occur.
Prevention with AVIFORM COXL that is 100% natural, 100% drug-free.🐓🌱
🌧️The rain is a source of many infections. Directly affects chicken production.😰
💥One of the problems that you should be careful about is necrotic enteritis.
Especially enteritis is caused by Clostridium perfringen which directly affecting to
Reducing chicken weight❗️
Decreasing Feed Conversion Ratio❗️
Directly lost income❗️💸
💥Additionally, one of the major causes of necrotic enteritis is often infected with "Coccidia".
❗️Coccidiosis is not just harmful on its own, it also causes other serious secondary infections.❗️
To avoid these problems, we must solve them at their source.🆘
AVIFORM COXL with 100% Natural Extrct🌱
That inhibit Coccidiosis cycle without the necessity of withdrawal ✨
✅ Inhibit the Coccidiosis cycle, especially in Sporogony stage and Zygote stage.
✅ Prevent Coccidia infection up to 97.8%
✅ Use as an alternative or combined with anticoccidial drug to reduce emerge of resistance.
✅ Improve gut integrity and digestibility.
🤩With A healthy gut, better digestion without Coccidiosis💚
AVIFORMCOXL #FeedAdditive #Layer #Broiler #Poultry #ImprovePerformance #เอวิฟอร์มคอกซ์แอล #สารเสริม #ไก่ #เพิ่มประสิทธิภาพการผลิต #Livestock #ฟาร์มปศุสัตว์ #ASP #แตกต่างสร้างประโยชน์ #Differenceforyourbenefits #เครือเวทโปรดักส์ #VetProdutsGroup