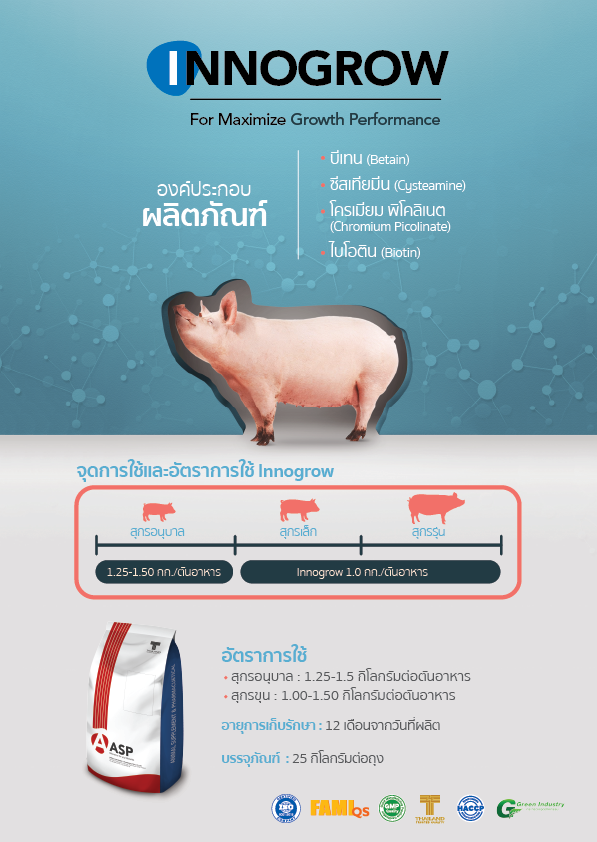 🐷Pig grows up well, grows up quickly🐷 "INNOGROW is here to help".
Pig farmers are currently in difficulty.
There are many factors that make raising pigs difficult.
Weather uncertainty
El Niño phenomenon
The price of raw materials is going up while it is becoming more difficult to find.
The prices of pork and pig are inclining to decrease continuously.
All pig farmers are facing obstacles due to these problems.
⚠️At the moment, our focus is on El Niño.‼️
Because of this, El Niño affects foodstuffs.
The pigs will be…
Growing up well OR badly
Selling on time OR being late
Pig production cost be going up OR down
🛎️ Animal Supplement & Pharmaceutical Co., Ltd. (ASP) has aware of the farm's problem. Therefore, we have developed INNOGROW to reduce the cost of pig production during this period.
⭐️ INNOGROW's components synergy each other.
Giving benefit to pig following with…
🪄 Increasing ADG, especially in nurseries and growers, is the most appropriate to on top, which has a faster and better muscle growth than fat.
🪄 Improving enzyme activity as Co-factor
🪄 Improving muscle growth in the right timing period
🪄 Compensating maintenance energy, while reserving and retaining energy for muscle growth.
Accelerate market weight faster and decrease finishing days.
Confidently guarantee the quality of INNOGROW based on its usage and testing in real farm conditions.
↗️ Increasing ADG of pig production.
↙️ Reduced finishing days up to at least 6 days.
↙️ Reduced feed cost during finisher unit up to 8,294,400 Baht. (Calculate from 1000 sows)
  If you need to know more about this product, feel free to contact our Seller Department at VPG.
INNOGROW #FeedAdditive #Pig #Swine #ImprovePerformance #อินโนโกรว #สารเสริม #สุกร #เพิ่มประสิทธิภาพการผลิต #Livestock #ฟาร์มปศุสัตว์ #ASP #แตกต่างสร้างประโยชน์ #Differenceforyourbenefits #เครือเวทโปรดักส์ #VetProdutsGroup