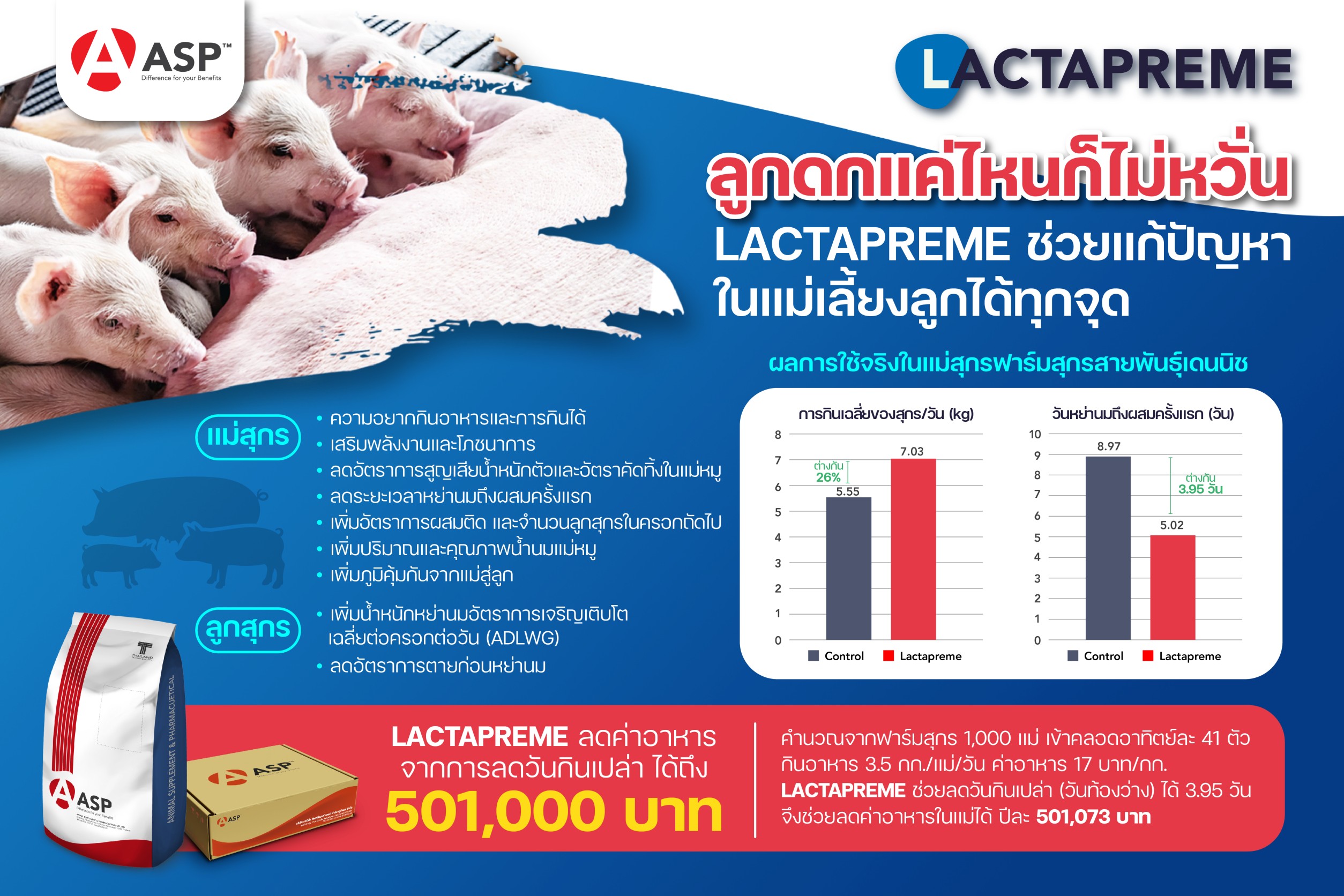 No matter how prolific you are. ​💥
LACTAPREME will help you and your lactating sows completely.​
​
🐷Hyper-prolific sow is the sow giving the number of piglets more than their own udders. These pigs are remarkable in terms of litter size, but at the same time, it is difficult to provide. This means managing a large number of piglets and handling sows with a negative energy balance. 🚨🚨That can affect the output of the product and the fertility of the sows themselves, the consequence of loss of body weight can affect other performances like milk production drop, weaning to first service taking longer, and reducing little size.​
​
✅However, the ASP is concerning in this issue and the development of feed additives for lactating sows; LACTAPREME, to achieve success in this period.​
Stimulate appetite and feed intake​
Energy and nutrients support​
Reduce weaning to first service interval; WFSI​
Increase pregnancy rate and litter size​
Increase milk production and quality​
Increase immunity​
​
✅Improve the efficiency of piglet​
Increase weaning weight and average daily litter weight gain(ADLWG)​
Reduce pre-weaning mortality​
​
⚠️Cleary with ROI measurement of Danish pig from the customer farm. From experiment with LACTAPREME 15 g/sow/day in 60 sows. ​
🪄The result show ​Increase feed intake by 26% in sow.​
🪄Decrease wean to first service interval up to 3.95 days.
🪄Reduce feed cost 501,000 bath/year
​
LACTAPREME #FeedAdditive #Pig #Swine #ImprovePerformance #แลคตาพรีม #สารเสริม #สุกร #เพิ่มประสิทธิภาพการผลิต #Livestock #ฟาร์มปศุสัตว์ #ASP #VRI #แตกต่างสร้างประโยชน์ #Differenceforyourbenefits #เครือเวทโปรดักส์ #VetProdutsGroup