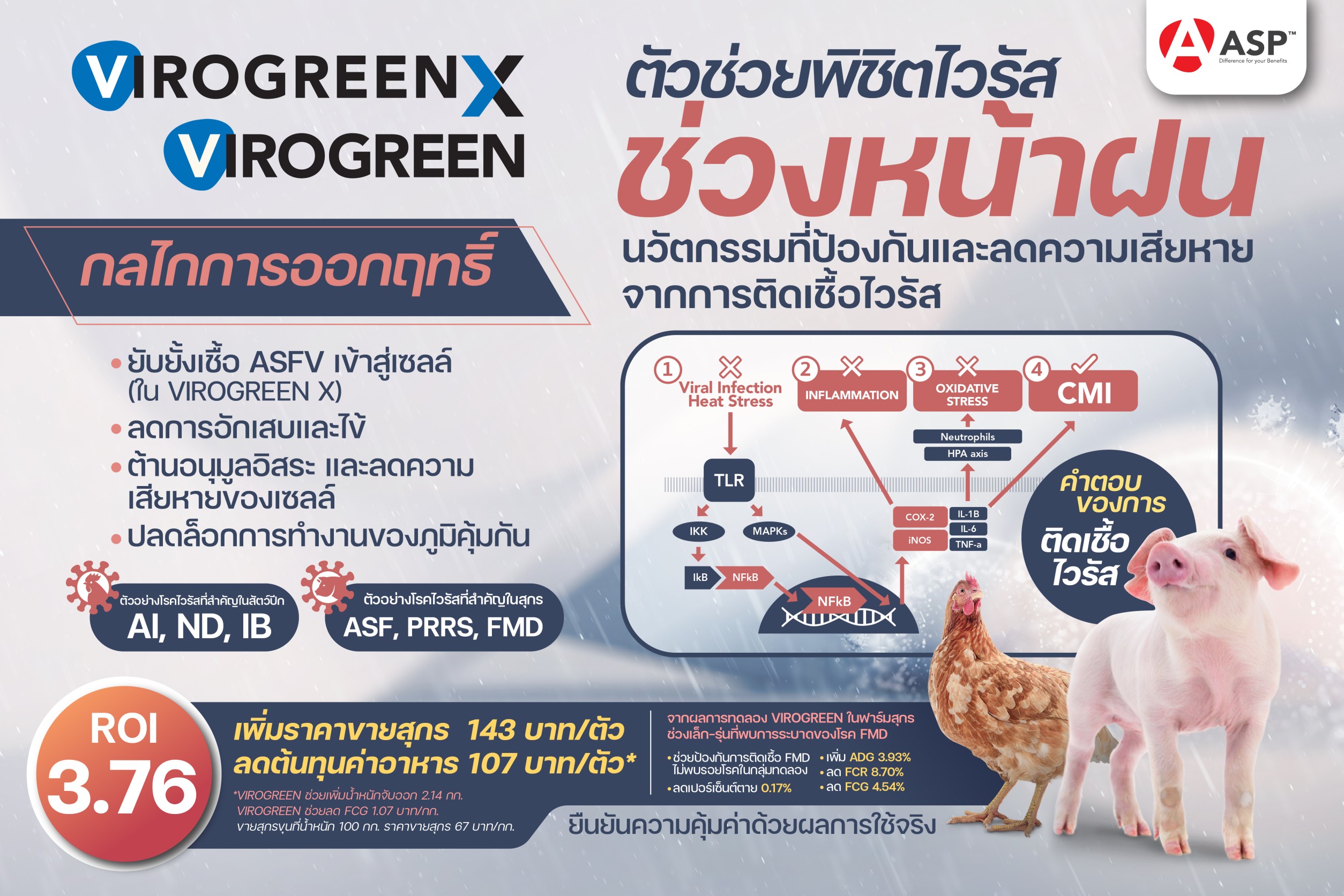 Never fear the rain if you have the defeating virus – Virogreen/Virogreen X
⛈️ Viral infection is a risk for animals during the rainy season.
▪️ The virus can live longer due to the higher humidity.
▪️ The presence of bad smells and ammonia causes animals to feel depressed and causes carriers such as flies to beset them and bringing viruses as well.
👉 Virogreen and Virogreen X are the natural extracts, possessing the properties
Reducing inflammation
Antioxidant
Supporting immunity
Blocking the entry of the ASF into cells (for Virogreen X)
🎯 Enhancing the animal-resistance to viral infection and they will return to normal quickly after reducing their feeding intake due to sickness.
During FMD outbreak, the Virogreen trial in the growing phase discovered that:
FMD lesions have not been detected in the Virogreen group being used.
Death rate decreased by 0.17%
ADG grew by 3.93%.
FCR reduced by 8.70% and FCG 4.54%.
🔖 Return of investment (ROI) = 3.76
💰Increase pig value to 143 Baht/pig
💰Reduce feed cost 107 Baht/pig (ROI 3.76)
💸 (Calculate with pig weight increase by 2.14 kg. and reduce FCG 1.07 Baht, that supplement with Virogreen Sale weight at 100 kg. with price 67 Baht/kg.)
🛎️ If you require any information about this product, please don't hesitate to contact our dedicated Seller Department at VPG.
Virogreen#VirogreenX#FeedAdditive#Pig#Swine#Broiler #Poultry #ImproveImmunity#ImprovePerformance #ไวโรกรีน #ไวโรกรีนเอ็กซ์ #สารเสริม #สุกร #สัตว์ปีก #เสริมภูมิคุ้มกัน #เพิ่มประสิทธิภาพการผลิต #Livestock #ฟาร์มปศุสัตว์ #ASP #แตกต่างสร้างประโยชน์ #Differenceforyourbenefits #เครือเวทโปรดักส์ #VetProdutsGroup