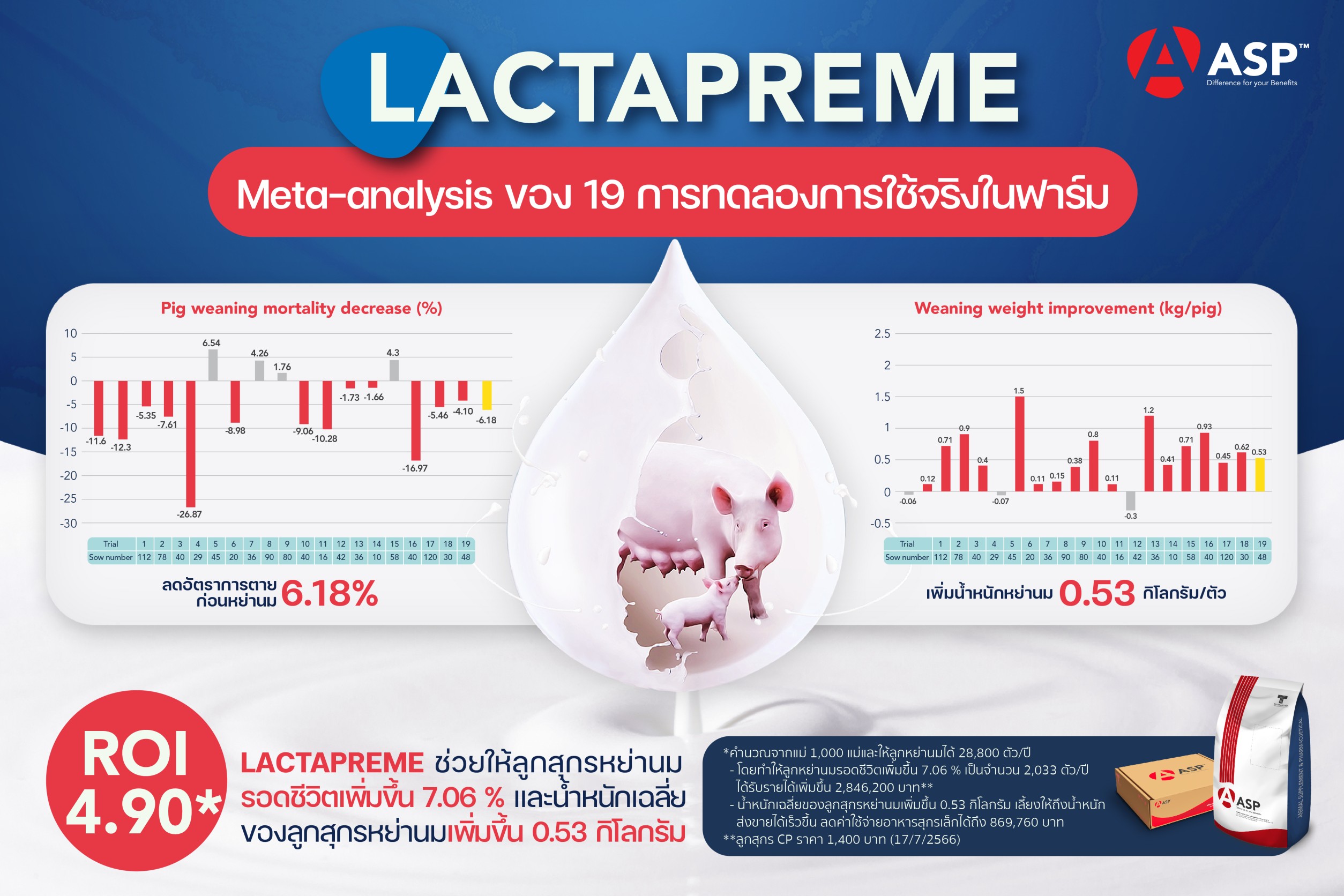 LACTAPREME has been proven effective over 10 years in real use and over 19 clinical trials 💥
🐷 The price of pork and pig are inclining decrease continually. Weaning pigs are always representing as the major source of swine production. Farm income is directly affected by the increase in the body weight or the number of weaning. 💸
📝 Numerous studies, reporting initial body weight or high weaning weight led to a higher growth rate and higher weight finisher as well.
Do you feel happier? If assistance is available at the farm to increase body weight and survival of weaning pigs. ⁉️
🔆 LACTAPREME, The best quality and quantity support milk production, provides nutrients for piglets.
🔆LACTAPREME not only guarantees international awards but also proves high efficiency used in swine farms across Thailand. That helped
🔥 Reduce pre-weaning mortality by 7.06%
🔥 Increase average weaning weight by 0.53 kilogram
Confidently guarantee the quality of this product based on its usage and testing in real farm conditions.
If you require any information about this product, please don't hesitate to contact our dedicated Seller Department at VPG.
LACTAPREME #FeedAdditive #Pig #Swine #ImprovePerformance #แลคตาพรีม #สารเสริม #สุกร #เพิ่มประสิทธิภาพการผลิต #Livestock #ฟาร์มปศุสัตว์ #ASP #แตกต่างสร้างประโยชน์ #Differenceforyourbenefits #เครือเวทโปรดักส์ #VetProdutsGroup