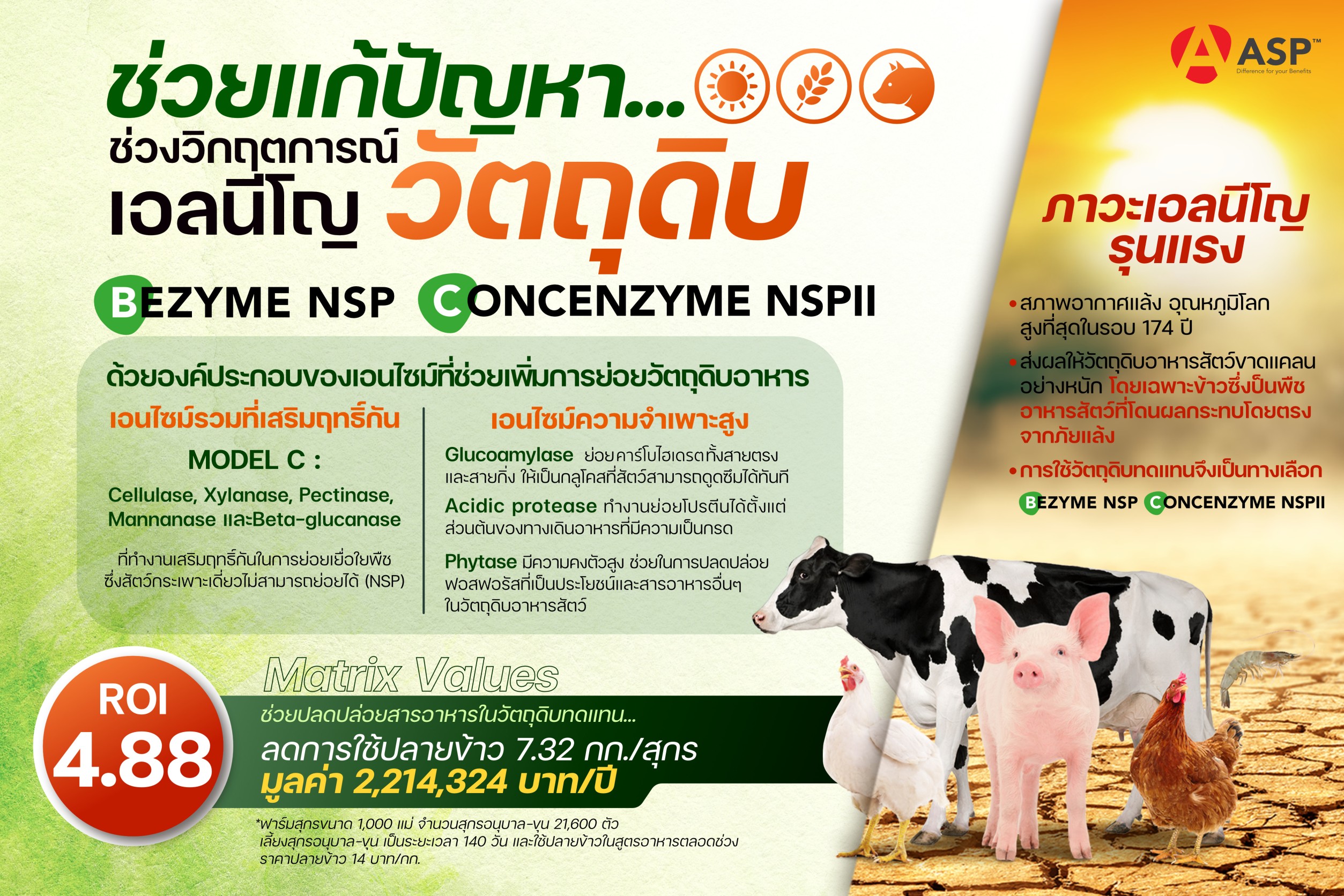 How to deal with rising feed cost problem from El Niño Crisis❔
With El nino situation affects world temperature, the highest in 174 years🔥, and the volume of rain per year. That affects to feedstuff, especially rice directly. There is a chance of increasing the price. The farmer has to use alternative feedstuff that usually has lower nutritional value.💥 That is why the additive of enzymes plays a role.
⭐️Bezyme NSP💚
⭐️Conzenzyme NSPII💚
There are specific enzyme that consists of
✅Complex NSPs enzyme
✅Phytase
✅Gluco-amylase
✅Acidic protease
🪄Each enzyme act synergistically to digest feedstuff.
🪄Bezyme NSP and Concenzyme NSPII are enzymes with the highest digestibility in the market. There are also experimental results confirming that it can increase production performance and the return on investment (ROI) = 4.88.✨
The concept of the enzyme for application with, two ideas are
1️⃣Top on is the concept that is used to increase pig production performance.
2️⃣Matrix value-form in feed formula is the concept for reducing using feedstuff in feed formula by using a full matrix form that can reduce the amount of rice bran was 7.32 kg/pig✨ if applied to 21,600 finishers farm, which could reduce feed costs by 2,214,324 Baht.✨💵💵
With matrix value of enzyme, which releases energy and nutrition suit to solve pricing feedstuff from El Nino situation.✅
If you require any information about this product, please don't hesitate to contact our dedicated Seller Department at VPG.
BezymeNSP #ConcenzymeNSP #NSPEnzyme #MatrixValue #TopOn #DecreaseFeedCost #ลดต้นทุนอาหารสัตว์ #ImprovePerformance #เพิ่มประสิทธิภาพการผลิต #Swine #สุกร #ASP #Differenceforyourbenefits #VetProdutsGroup #เครือเวทโปรดักส์