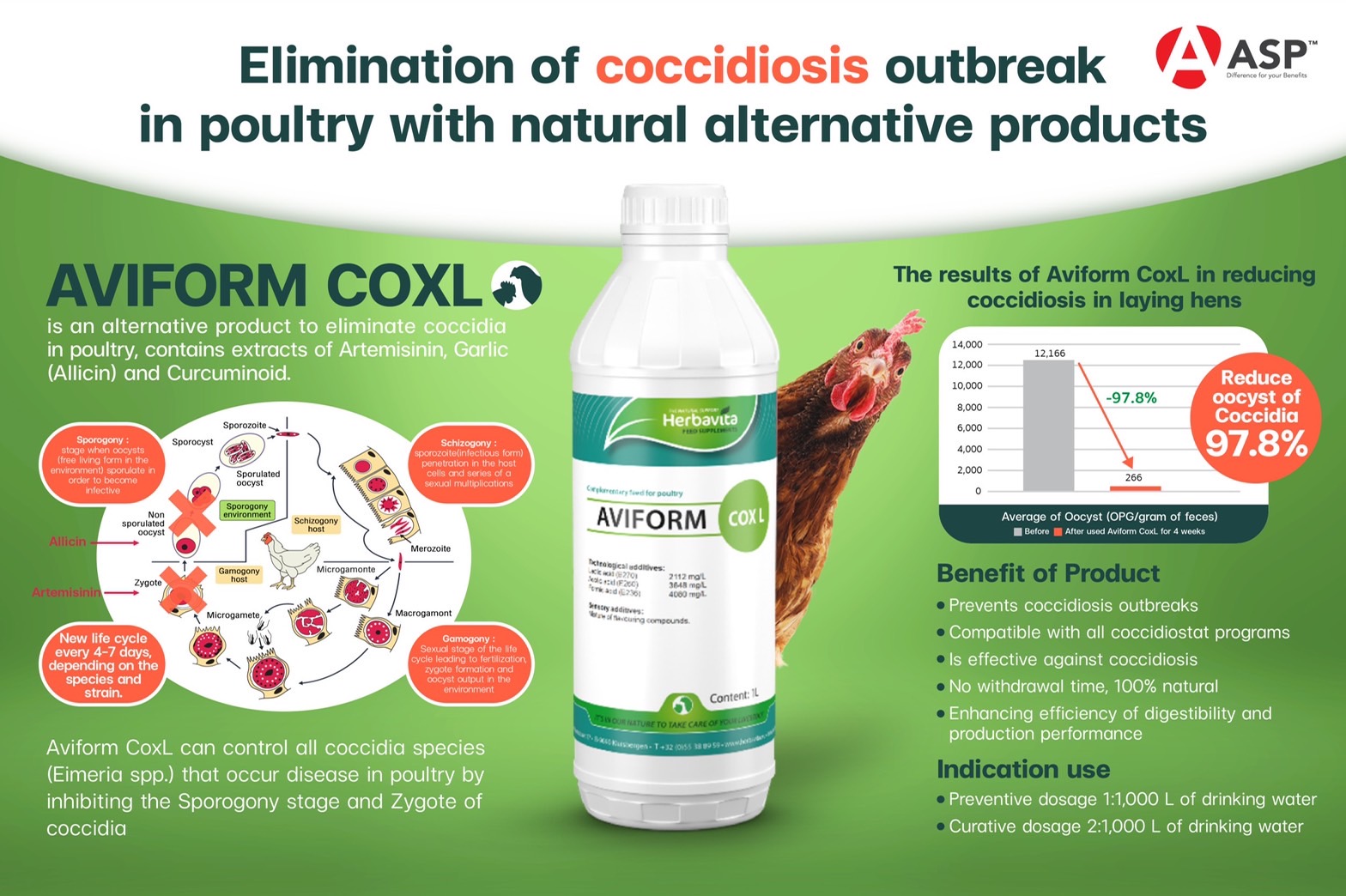 🎈Elimination of Coccidiosis outbreak in poultry with natural alternative product 🐔🐓🐔
☘️Aviform Cox L
👉At present, Coccidiosis has a considerable effect on the product performance of poultry. Chicken infected with coccidia (Eimeria spp.) encounter problems with reduced egg production rates and increased feed conversion ratio rather than severe diarrheal to death problems. The reduction in production performance affects the farm's income, and Coccidiosis leads to higher production costs and lower farm profits. The chemical (Coccidiostats) treatment program tends to become increasingly resistant to coccidia, making it more challenging to control coccidiosis outbreaks.
👉Aviform Cox L is a 100% natural alternative product to control outbreaks of coccidiosis on farms. The composition of Artemisinin extract and Garlic extract (Allicin) inhibits the coccidia's cell wall formation, a proliferation of coccidia (Eimeria spp.) in the sporogony stage and disrupts the process of sexual fertilization of coccidia to inhibit the production of Zygote in intestinal cells of poultry. It also contains turmeric extract (Curcuminoid) that helps promote digestive health and enhance the animal's immune levels.
👉From the results of Aviform CoxL's trial
• in the layer poultry farm with coccidiosis outbreaks in laying hens at 18 weeks of age with a history of coccidiostat (amprolium) using.
• This trial found that coccidia's oocysts in chicken droppings after using amprolium were 12,166 oocysts/gram of chicken feces (the average amount of coccidia oocysts in feces)
• after using Aviform CoxL at a concentration of 1:1000 liters of drinking water for 4 consecutive weeks.
• Chicken feces were found that coccidia's oocysts reduced was 266 oocysts/gram of chicken droppings.
👍 The conclusion of this trial, Aviform CoxL can decrease coccidia's oocysts, was 97.8%.
👍 Aviform CoxL is compatible with the farm's drug programs and has no drug withdrawal time because it is a 100% natural product.
AviformCoxL #coccidia #watersupplement #Layer #Breeder #Broiler #Poultry #Egg #ImprovePerformance #เชื้อบิด #ควบคุมบิด #สารน้ำ #ไก่ไข่ #ไก่พันธุ์ #ไก่เนื้อ #ไก่ #เพิ่มประสิทธิภาพการผลิต #Livestock #ฟาร์มปศุสัตว์ #ASP #แตกต่างสร้างประโยชน์ #Differenceforyourbenefits #เครือเวทโปรดักส์ #VetProdutsGroup