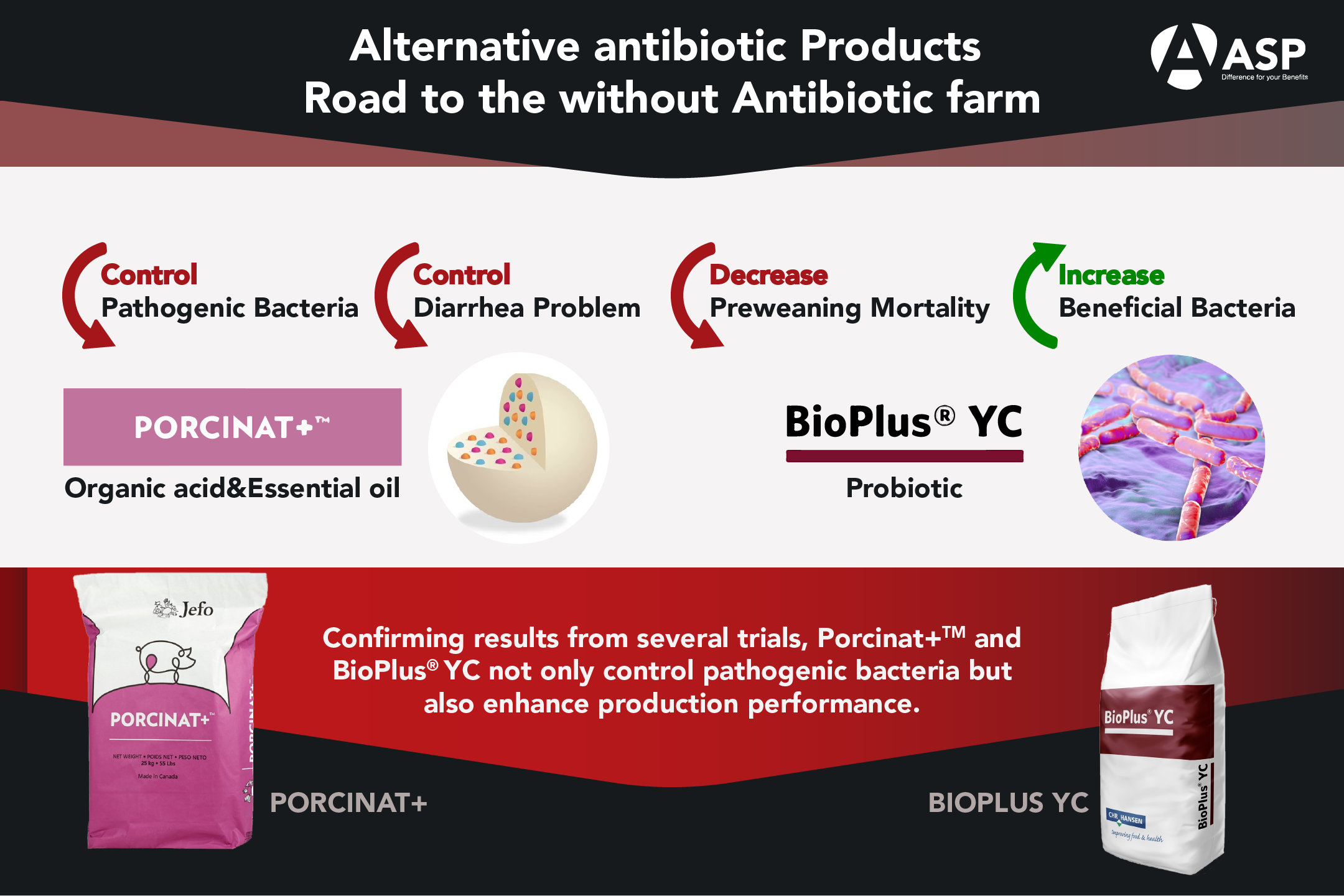 ??Alternative antibiotic product road to the without antibiotic
??Currently, antibiotics are common and widely used for bacterial control in the swine industry. The thing to be concerned is about over-used and long-term may cause antimicrobial resistance. This effect is not only bad for pigs but also bad for meat consumers.
The important thing is to reduce or refrain from using antibiotics on farms. That's why livestock scholars try to find the natural substances that can help kill pathogenic bacteria equivalent to or close to antibiotics as an alternative to today's antibiotic use.
✅ Porcinat Plus
Porcinat Plus consists of organic acids and essential oils that has the ability to kill pathogenic bacteria and reduce diarrhea in pigs. There was hardly a difference in effectiveness in reducing diarrhea compared to antibiotics.
✅ Bioplus YC
Another product, Bioplus YC, is a group of probiotics composed of two beneficial bacteria that work together to effectively control pathogenic bacteria. Studies have shown that it can help reduce mortality and reduce diarrhea in pigs not different when compared with antibiotics.
PorcinatPlus #BioplusYC #OrganicAcid #EssentialOil #Probiotic #AlternativeAntibiotic #ทดแทนยาปฏิชีวนะ #DecreaseAntibioticInFarm #AntibioticFree #ABF #ReduceDiarrhea #ReduceMortality #ReducePathegenicBacteria #IncreasePerformance #Swine #สุกร #ASP #Differenceforyourbenefits #VetProductsGroup #เครือเวทโปรดักส์