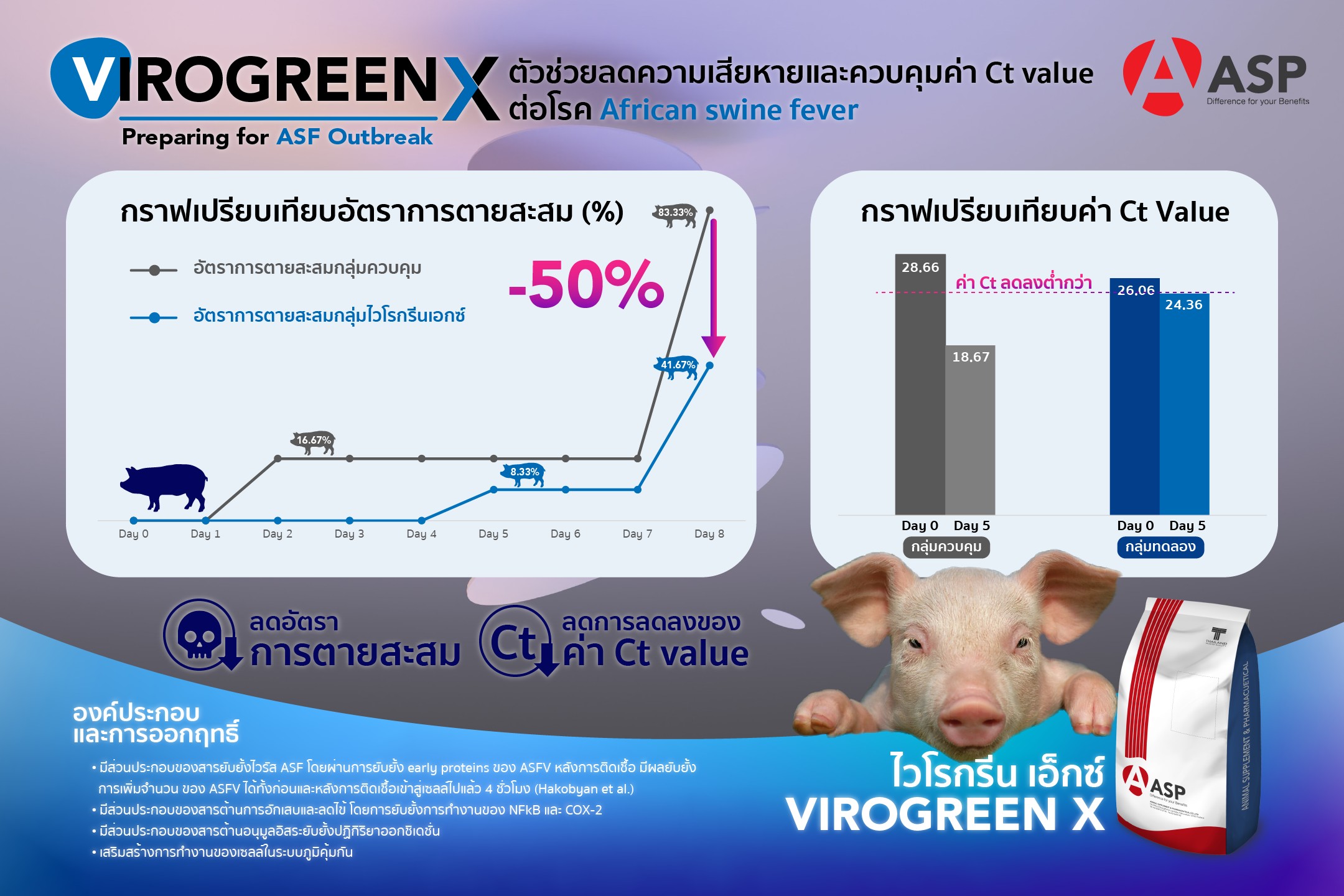 🐽 African swine fever is caused by virus infection. An infected pig's clinical sign is high fevers, petechiae hemorrhage, and death of almost 100%, resulting in high considerable economic damage to pig farms.
☘️VirogreenX composition are several kinds of the natural extract which has the effect of inhibiting the ASF virus, reducing inflammation, reducing fever, reducing free radicals, and also inhibiting the destruction of specific immune cells in pigs. And It also contains energy substances that help restore the pigs to be stronger as well. This product has been tested as follows:
✅The experiment was started with 24 starter pigs, divided into 2 groups:
1️⃣Control group was fed the farm's usual diet
2️⃣Treatment group feeding was mixed with VirogreenX 2 kg. per ton of feed.
⏰The total duration of the experiment was 8 days.
1️⃣Cumulative mortality rate at day 8 of the VirogreenX group decreased 50% less than the control group
2️⃣VirogreenX's CT Value decreased 81.29% less than the control group after 5 days.
👍In conclusion, the use of VirogreenX can help reduce the severity and damage of ASF, and also have a longer time to manage infected pigs.
Virogreen #Virogreen-X #FeedAdditive #ไวโรกรีนเอ๊กซ์ #ASF #Virus #Livestock
ASP #DifferenceforYourBenefits #แตกต่างสร้างประโยชน์ #VPG #VetProductsGroup