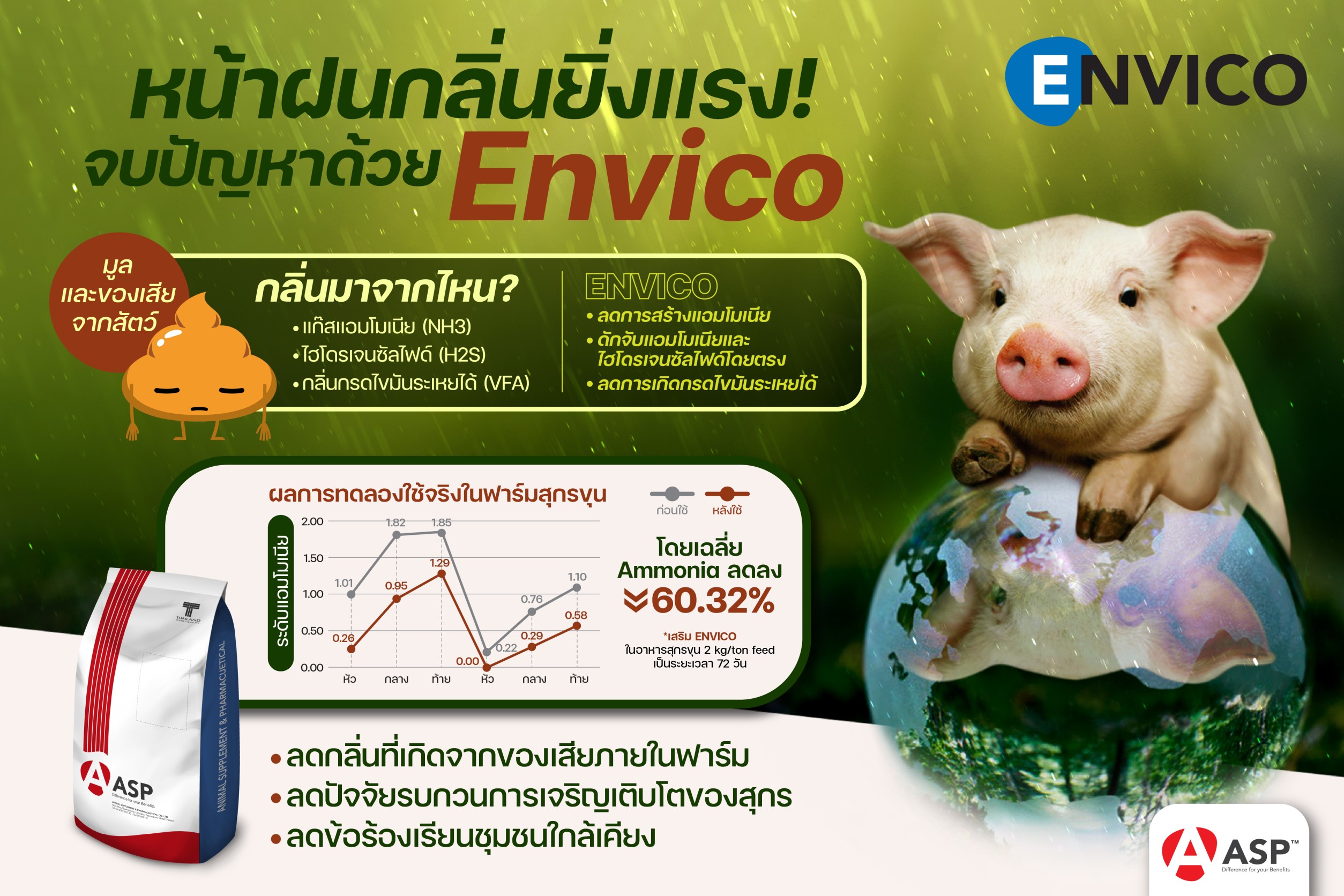 The rainy season is causing an increase in humidity and the smell of pig excrement, which causes the community to complain ‼️
Take control of the problem with Envico.
The bad smells become more intense during the rainy season, but the problem is more than just the smells.
The bad smells have direct impacts on
Attracts insects ⏩ increasing the risk of outbreak.
The stress of pigs is affecting their feed ability ⏩ affecting their growth.
Affects workers and the community ⏩ increasing the risk of complaints.
Pig excrement contains volatile substances that have a strong smell, such as ammonia, hydrogen sulfide, and volatile fatty acids. Poor ventilation can cause the strong smell to remain in the air longer, such as after a rainy season.
Solve with Envico‼️
Clear all bad smell issues with….
✅ Slow emission of ammonia
✅ Trap ammonia and hydrogen sulfide
✅ Reduce emerge of volatile fatty acids
🏆With confidential results from a customer, that compare with before and after use Envico in finisher farm reduced ammonia by 60% in all housing spot.
Dose Usage 1-2 kg/T-feed
🛎️If you require any information about this product, please don't hesitate to contact our dedicated Seller Department at VPG.
ENVICO #FeedAdditive #Pig #Swine #Reduceodorpollution #ImprovePerformance #เอนวิโคสารเสริม #ลดปัญหากลิ่น #เพิ่มประสิทธิภาพการผลิต #Livestock #ฟาร์มปศุสัตว์ #ASP #แตกต่างสร้างประโยชน์ #Differenceforyourbenefits #เครือเวทโปรดักส์ #VetProdutsGroup