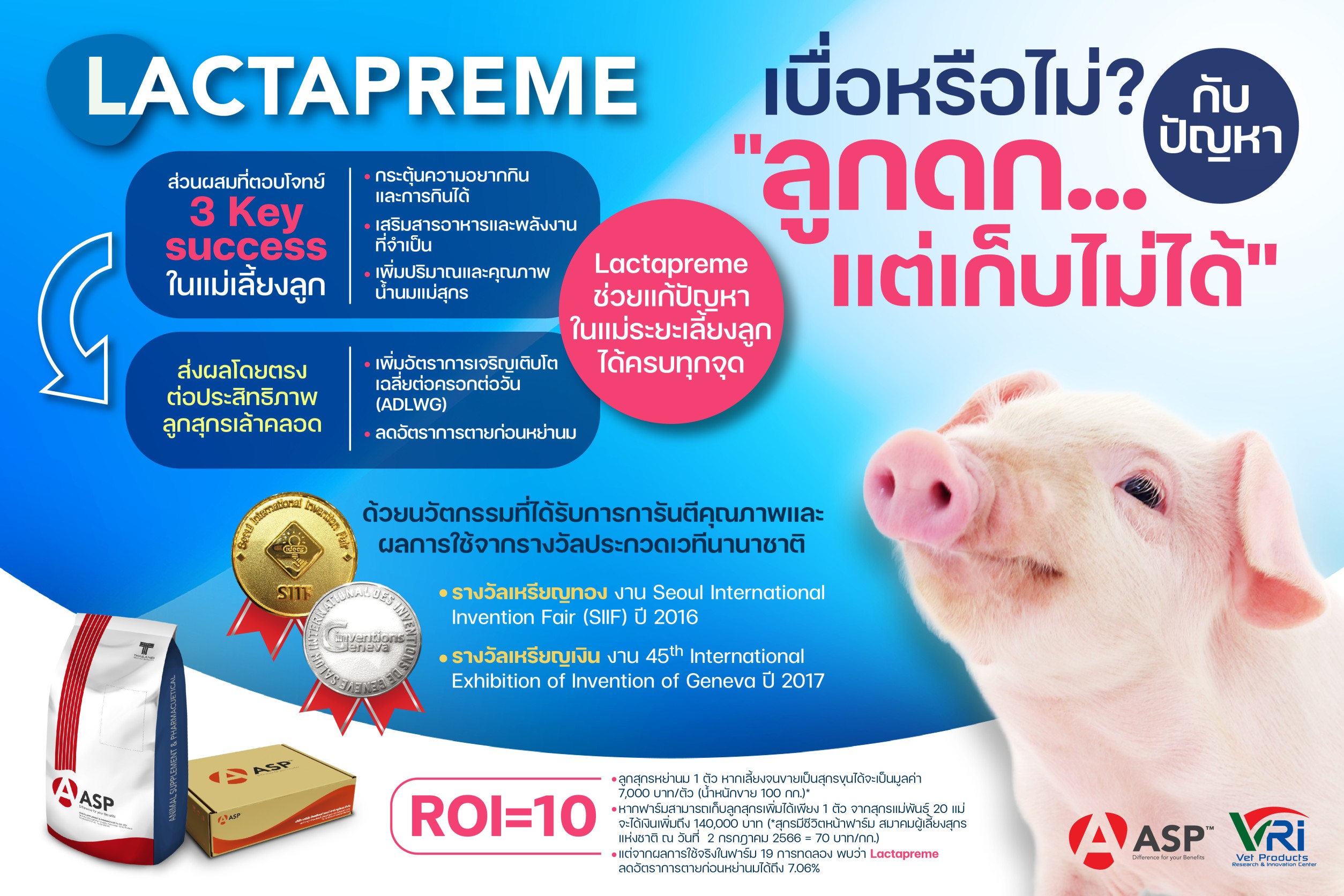 LACTAPREME® The most suitable feed additive in this complicated swine production situation. ⭐️
Nowadays, the price of pork is inclining decrease but opposing to the value of feed-intake which trending raise and must be using day-to-day. ❔
🐷So, the economic loss in farms has an even more impact on profit. The better option is "Get more profit, same investment" to overcome this crisis. Especially the part of sows and piglets in the farrowing unit.
On 2nd July 2023, the price of weaned pigs is 1,500 baht. (Ref. The Swine Raisers Association of Thailand)
As if all these weaned pigs raise to finisher, sold for 7,000 baht.
And LACTAPREME increased 1 weaned pig/litter/sow, as if calculate from 20 sow can make a profit of 140,000 baht when sold as finisher. 💵💵
Animal Supplement and Pharmaceutical Co., Ltd. (ASP) in collaboration with Vet Products Research & Innovation Center Co., Ltd. (VRI), Both bunch of Vet Products Group, realized the importance of research and development of products. That solves the problem of farrowing parts in swine farms to optimize the profit with a worthwhile investment. During the period when the price of swine fell meanwhile, the cost of feed tended to increase continuously.
🔑Composing of high-quality composition as LACTAPREME®, to meet the 3 key success of lactating sows.
❤️1️⃣Stimulate appetite and feed intake up to 6.11 kg/sow/day.
❤️2️⃣Energy and nutrients support, which can hold the pre-weaning survivability as many as 12 pigs/litter on average.
❤️3️⃣Increase milk production and quality.
As a result, LACTAPREME® was chosen to represent Thailand as a part of innovation competitions. So, LACTAPREME® became the first product to win an international prize. 🏆🌏
🥇Gold Award Warranty for increasing sow milk production, Seoul International Invention Fair (SIIF) 2016.
🥈Silver Award Warranty for increasing feed intake in lactating sows and reducing mortality in pre-weaning piglets, 45th International Exhibition of Invention of Geneva 2017.
📃Also published the actual farm usage results and presented the research results to Thailand ICVS 2022, on the topic "Effect of LACTAPREME® supplementation in late-gestation sow diet on feed intake and pre-weaning mortality of piglets: A meta-analysis". ✅
LACTAPREME #FeedAdditive #Pig #Swine #ImprovePerformance #แลคตาพรีม #สารเสริม #สุกร #เพิ่มประสิทธิภาพการผลิต #Livestock #ฟาร์มปศุสัตว์ #ASP #VRI #แตกต่างสร้างประโยชน์ #Differenceforyourbenefits #เครือเวทโปรดักส์ #VetProdutsGroup