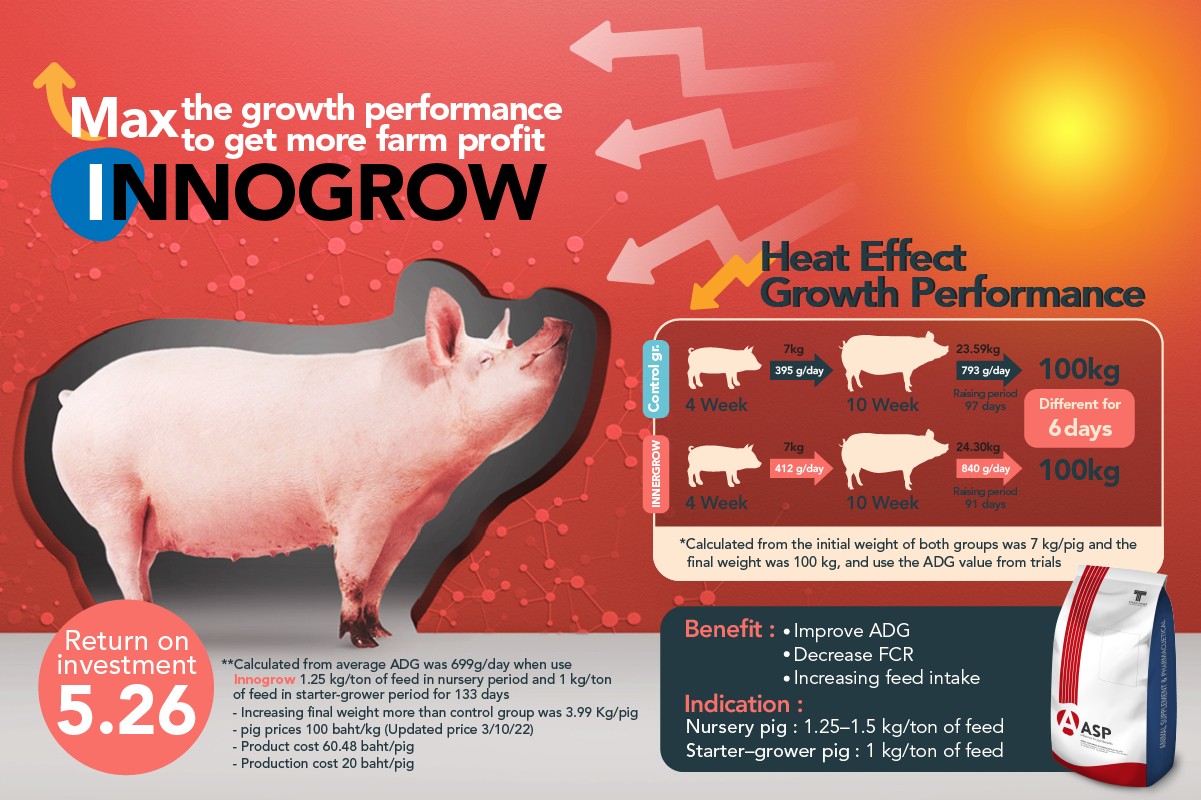 🐷Maximize the growth performance to get more profit🐷
🔥Due to the hot weather conditions in Thailand, it has resulted in a condition known as "Heat stress" in pigs. This directly affects their feed intake, reducing it and subsequently impacting the growth rate of piglets, causing a slower growth rate than expected. As a result, the production efficiency does not meet the expectations of the farmers.
🚨Promoting growth performace is crucial, especially in cases where pig farmers can accelerate the growth of piglets and reduce the rearing period. This not only reduces the cost of daily pig rearing and feed but also leads to increased profitability for the farm.
🎯Combining the situation with fluctuating live pig prices, it would be advantageous if pig farmers are able to produce piglets that grow faster within a reduced rearing period, meeting the market demand. This allows farmers to adapt to market conditions and potentially increase their profitability.
🎖️Innogrow supplement promoting several advantage🎖️
✅ Innogrow is formulated with carefully selected ingredients that promote the growth process in nursery to grower pigs.
✅ Innogrow has undergone field trials that have demonstrated its ability to effectively enhance growth performance in pigs and can be able to assessment of return on investment (ROI).
✅ Innogrow can effectively reduce the rearing period from the real field trial.
🐷From the results of the trial in nursery and grower pigs, show that Innogrow able to…🐷
📍reduce the rearing period of pigs by 6 days.
📍provide a return on investment of up to 5.26 times!!
📍The pigs in the experimental group had a final weight that was 3.99 kg higher than the control group (assuming the price of pork is 100 baht per kilogram).
⚠️Calculated based on the average daily gain (ADG) of 699 grams per day.
⚠️Using Innogrow at a rate of 1.25 kg per ton of feed for nursery pigs and 1 kg per ton of feed for starter to grower pigs, for a period of 133 days.
☎️ If you are interested in the product, you can contact the technical sale representative within the VPG group for further assistance.
Innogrow #FeedAdditive #Pig #Swine #ImprovePerformance #อินโนโกรว #สารเสริม #สุกร #เพิ่มประสิทธิภาพการผลิต #Livestock #ฟาร์มปศุสัตว์ #ASP #แตกต่างสร้างประโยชน์ #Differenceforyourbenefits #เครือเวทโปรดักส์ #VetProdutsGroup